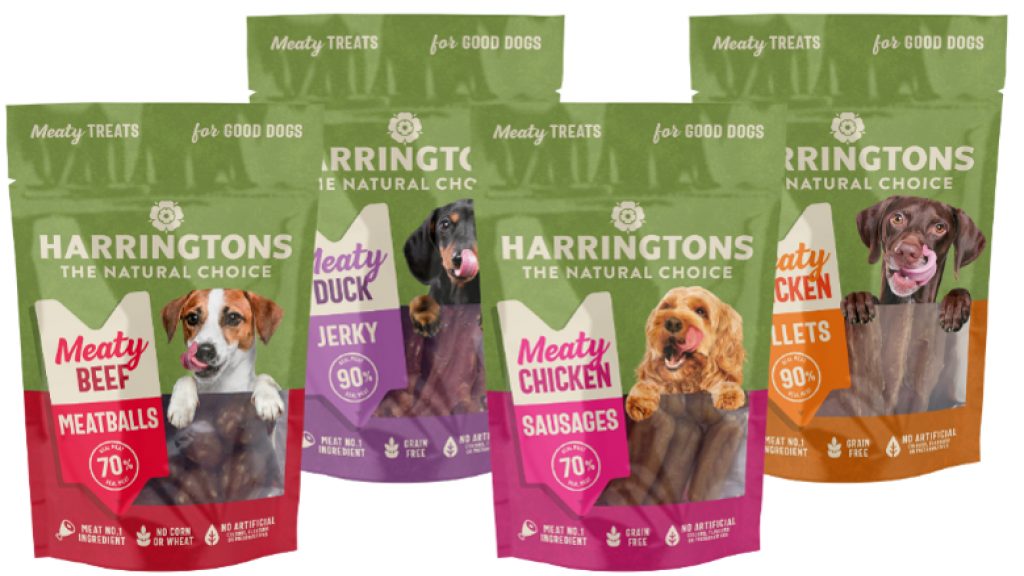 Harringtons Launches New Affordable, High-Protein Treats
Harringtons, the UK's number one dry dog food brand, and part of the Inspired Pet Nutrition group, has broadened its horizons with the launch of its latest new high protein product - Meaty Treats.
The launch comes off the back of a substantial growth in the dog treat market, which is now worth £394* - an increase of £32m over the last 12 months alone.

Available in four delicious flavours; Chicken Fillets, Duck Jerky, Beef Meatballs, and Chicken Sausages, the treats are free from artificial colours and preservatives, and contain a minimum of 70% meat, ensuring dogs get some natural goodness in their diet.
Meaty Treats are designed to put protein at the forefront and are packed full of all-important vitamins and minerals to make treat time all the more delicious and nutritious!
With three grain free recipes and the tasty Beef Meatballs being wheat-free, Harringtons' Meaty Treats are perfect for dogs with sensitive digestion.
With the cost of living on the rise, pet owners don't need to compromise on quality with these tasty treats. At an RRP of £2.50 per packet, dogs can enjoy great quality treats without breaking the bank.

Lucy Stones, Brand Marketing Manager at Inspired Pet Nutrition, said:
"Harringtons prides itself on delivering the health and happiness that everyone can afford, and every pet deserves. The dog treat market is doing incredibly well, and we spotted an opportunity to provide pet owners with more options that are nutritious so they can reward their pet in a conscious way. Good nutrition shouldn't need to come at a premium, and with our new Meaty Treats range, owners can benefit from added affordability. We're confident they'll go down a real 'treat' with our four-legged friends and owners alike."
To find out more about Harringtons' Meaty Treats, please visit: https://www.harringtonspetfood....
Harringtons is part of Inspired Pet Nutrition, the largest manufacturer of dog food within the UK, and the first major pet food manufacturer to be certified carbon negative. Inspired Pet Nutrition aim to become the most sustainable pet food manufacturer in the country with a focus on people, pets and the planet and have already made sure that the packaging they use is 98% recyclable.
*IRI All Outlets. 18th June 2022