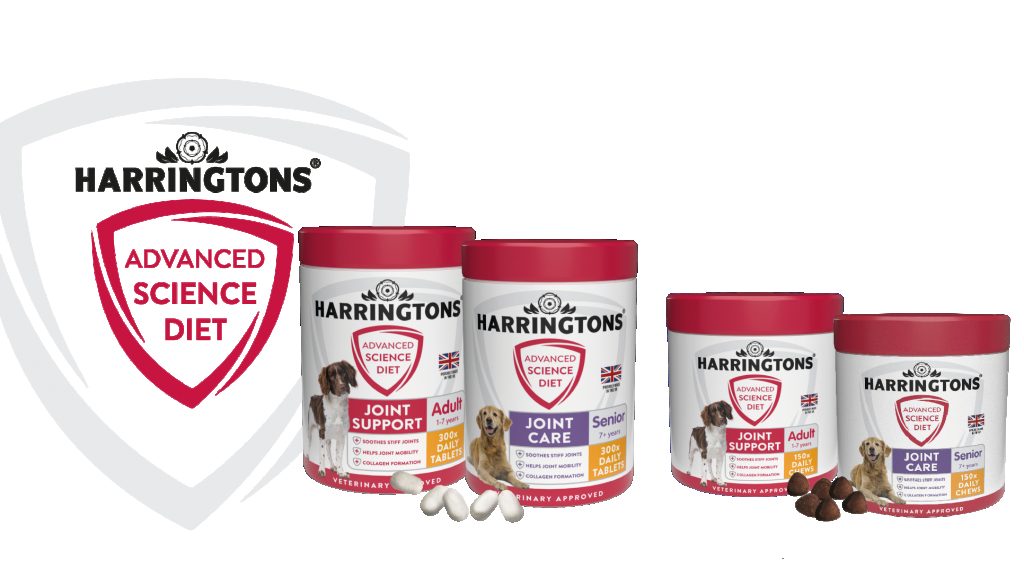 HARRINGTONS LAUNCHES VET ENDORSED ADVANCED SCIENCE DIET SUPPLEMENTS
Yorkshire-based pet brand, Harringtons, has added to its incredibly popular Advanced Science Range with its latest supplement launch - offering quality, tailored and nutritionally advanced supplements, which are both affordable and accessible.
It is estimated that the dog supplements market is worth at least £120 million a year and growing at over 50% across retail and online channels. Given the exceptional rate of growth in the category and the value of supplements to consumers, IPN is staying at the fore of the market trends.
Launching four new products in the form of chews and tablets, Harringtons are helping to eliminate the struggles of dog owners who are forced to hide or disguise supplements, with these new easy formats.
Available in two age ranges, with two product formats, the new supplement range will include:
Harringtons Shield Joint Support Chews for Adults Dogs (150 chews) - £29.95
Harringtons Shield Joint Support Tablets for Adults Dogs (300 tablets) - £44.95
Harringtons Shield Senior Hip & Joint Care Chew Supplement (150 chews) – £29.95
Harringtons Shield Senior Hip & Joint Care Tablet Supplement (300 tablets) – £59.95
Endorsed by Peter Wright, the Yorkshire Vet, these new supplements, aimed to be fed alongside a healthy diet, are packed full of nutritional benefits.
Harringtons identified the three key essential purchase factors for owners as being taste, naturalness and meatiness; resulting in a product made from completely natural ingredients and freshly prepared meat and fish. Four-legged-friends get a tasty, meaty product, which they will naturally love, whilst being accessible to all.
Green Lipped Mussel provides an incredibly concentrated source of Omega3, benefitting a dog's skin and coat, whilst improving mobility by supporting stiff and aching joints. Alongside this, there is a bespoke blend of Vitamins C and E to neutralize free radicals - helping to maintain and prolong joint mobility. Added magnese and glucosamine assist collagen formation in the cartilage, tendons and ligaments, with a boost of Hyaluronic Acid which supports the synovial fluid in lubricating and cushioning the joints.
Speaking of the new supplements, Peter Wright, The Yorkshire Vet, said:
"Our dogs deserve a life filled with joy and comfort, where they can walk, run, jump and play to their hearts' content. I've partnered with Harringtons on its Advanced Science Diet supplements to make sure we help give provide our dogs with just that."
Chris Wragg, Marketing Director at Inspired Pet Nutrition, commented:
"When your pet gets older or suffers from health issues and starts to slow down, it can be a difficult time for the whole family. With this new launch we are hoping that alongside a healthy diet and active lifestyle, owners will be able to share those special moments with their pets for longer."